Our Artistic Director
Juliann Hemphill became Artistic Director of Coastal Voices in August of 2019. She has sung with the group for ten years, served on the board of directors for eight years, and acted as assistant director for the past four years.
Juliann began singing at home and in church. Her first piano teacher had her sing to all of her piano pieces, which she hated at the time but is thankful for today! After participating in a couple of elementary school musicals, Juliann sang in the Girls Glee Club in junior high school—earning a scholarship to attend the ISOMATA vocal music summer camp run by USC. Three years of high school choirs and one year of college choir followed. Uncountable years of church choir participation, a couple of years in a Sweet Adelines group, and some small group work over the years sums up her vocal experience. She has attended directors training courses for the last five years and is an active member of the American Choral Directors Association.
Juliann has a bachelor's degree in Sociology and has completed all but her thesis in a master's program in Career Counseling and Development. Her past work experience includes counseling low-income students in government-funded employment and educational programs, teaching an introductory college course, and working for an arts and entertainment newspaper. She currently works for the Orcutt Union School District writing grants, maintaining websites, and substitute teaching. She also works in the agriculture sector preparing farm maps and doing regulatory paperwork. She has been a member of a number of local nonprofit boards and serves in music capacities for her church. She enjoys dabbling in graphic design, seeing her children and grandchildren, and collecting Hard Rock Cafe pins.
---
Some of Our Past Concerts
All posters designed by Juliann Hemphill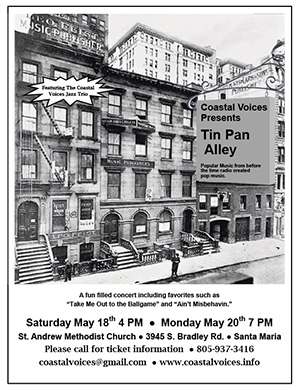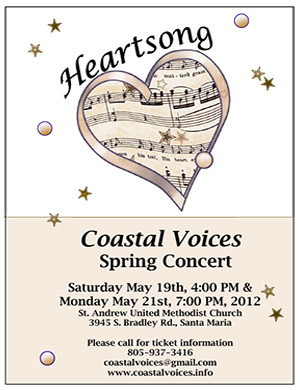 Our Beginnings
In the early 1990s a group of singers called the Master Chorale performed with the Santa Maria Symphony. When the Symphony ceased operations in the late 1990s, the Master Chorale also disbanded. Dolores Doran (right, photo by Esther H. Moon), a member of the chorale, organized a new choral group consisting of members from the Master Chorale as well as other singers from the surrounding communities. This was the beginning of Coastal Voices.
Costs were kept to a minimum. Singers were asked to pay dues to defray some of the costs and risers were borrowed from Allan Hancock College. Friends and spouses were called upon to help with the programs, ticket sales, and other chores. Concerts were held throughout the Santa Maria Valley and surrounding communities.
The group was incorporated as a California nonprofit corporation in November of 2004. The group grew and received frequent performance invitations in the community. Sadly, Dolores Doran passed away in January of 2007. The choir was dormant until August of 2007, when a new board was elected and the group reorganized and again became active.
In November of 2007 the first concert of the revitalized choir, led by new artistic director Margaret Nelson, performed music selected by Dolores in honor of Veterans and current military members.
In the Spring of 2008 Coastal Voices held their first fundraiser, starting a tradition of successful dinners held each Spring that include a concert of small ensembles and solos performed by group members throughout the course of the evening. In 2017 we introduced our Karaoke Funraiser, which was a great success. In addition to raising money for operating expenses, this makes it possible for Coastal Voices to give back to the community by offering financial support to local music programs and groups.
Since 2007, Coastal Voices has established a tradition of two annual concerts and an annual fundraiser. We perform a wide variety of music in our concerts. We also have a small group that is available for caroling each year over the holiday season and has performed at the Santa Maria Tree Lighting the last several years. Coastal Voices joins periodically with other groups, notably the Allan Hancock College Choir and the Santa Maria Philharmonic, bringing us full circle back to our roots as the Master Chorale with the Santa Maria Symphony.
Coastal Voices is a true community choir, unaffiliated with other organizations. Our members are drawn from all ages and walks of life. This diversity of musical experiences is one of our greatest attributes. We share the love of song and the mission of extending the awareness of choral music to our community.
Margaret Nelson (right, photo by Leslee Edward) stepped down as long-time artistic director of Coastal Voices in August 2019, but will continue to sing with our group and act as one of our two assistant directors. Prior to taking over as Artistic Director, Margaret had been a member of the group for several years. She holds bachelor's and master's degrees in education and is retired from the Santa Maria-Bonita School District. Margaret is the organist and choir director for her church, accompanies Orcutt Academy choral groups, is a co-conductor of the Central Coast Chordsmen, and gives piano lessons. In any spare time she can find she enjoys composing and arranging music.